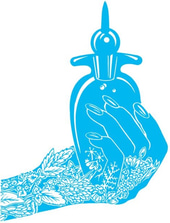 Let us introduce ourselves
Kate and Karen opened the salon at Broadbridge Heath Leisure Centre, Wickhurst Lane (by Tesco superstore) in 1990. In October 2018 we moved, just next door to the new building 'The Bridge Leisure Centre'. 2020 saw a big change for us in the wake of Covid-19 and we are now delighted to be in a home based garden studio in Horsham.

Independent and with such long experience we can be flexible, suiting treatments to specific needs. We never charge for consultations.
We are warm, approachable and professional Chichester qualified Beauty Therapists.
Kate holds a HND in Beauty Therapy & Karen an OND in Beauty Therapy, we both have membership and insurance with the Guild of Professional Beauty Therapists (MGPBT).
We have an established clientele and are always pleased to welcome new clients. Many of our clients have been with us for more years than they or we care to admit, in some families we look after three generations.
Be assured we are not a couple of old dinosaurs, we take ourselves off from time to time to learn new skills or update the old ones. Most recently we undertook training and are associated with MASCED (melanoma and skin cancer early detection).
Please call us if you'd like more information, we always respond to messages on the answerphone.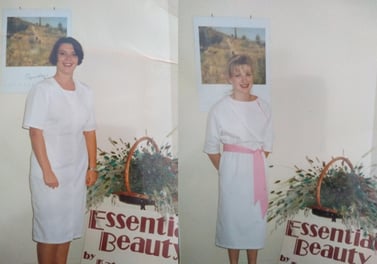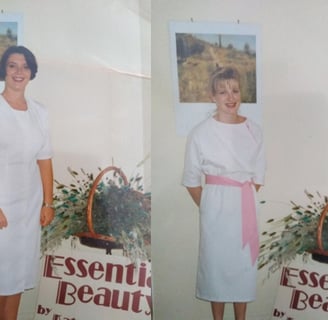 Kate & Karen at our beginnings in 1990
New Beginnings by Kate
(August 2020)
Our story began an incredible 30 years ago....
Possibly a couple of years earlier....
Karen came to do work experience with me when I was managing a salon just outside Horsham, my memory is of a tiny shy almost translucently white blond elf with an insatiable curiosity for what I was up to.
The next time I met Karen she'd completed her two years Beauty Therapy training at Chichester College where I too had trained 12 years previously, (it really was two years of very happy full time training back then).............
By this time I was working out of a friends hairdressing salon, but I was looking for new premises as that salon was on the market.
Things really were very different back then,......another therapist friend suggested I enquire at the Broadbridge Heath Leisure Centre. I phoned and arranged to meet the then manager and the very next day I met with him, he showed me a couple of possible rooms, we agreed a rent for what had been the caretaker's flat, shook hands and that was it.
The following week Karen and I opened the door together as Essential Beauty.
Now almost exactly 30 years later, we begin again, this time Karen will take the helm as we move into a beautiful new purpose built studio in her garden.
Although we had moved into new premises at the Bridge Leisure Centre less than 2 years ago, it never really proved a very good fit for us.
Despite being an excellent centre for sports and having a delightful happy buzz of activity, this environment was never able to supply the cool tranquillity we really need for our work.
Our new garden studio has a wall of windows and excellent ventilation with gently mumbling chickens for neighbours (no cockerel)!
The treatment room is a perfect size with a waiting area and loo. It has its own separate entrance, via the garden gate in the lane at the side of the house.
In lockdown I was beginning to feel it might be time to change direction, (retire maybe), but Karen was having none of that!........ and in returning I instantly recovered my passion and love for whatever it is we do and find I have huge enthusiasm for this new and exciting adventure........
I'm so grateful for the day Karen's path crossed mine
For 30 years we have been opposite sides of the coin, rarely spending time together, but always in accord.
We are now in each other's company much more and this is proving rather delightful...... for me anyway! 😉