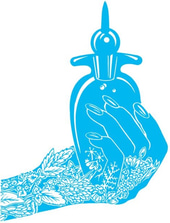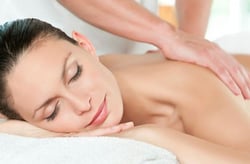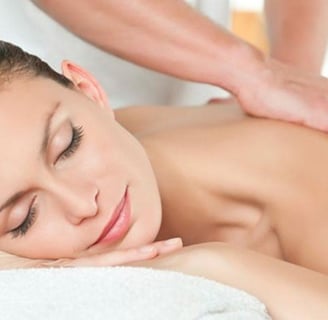 Plan to relax after your treatment and drink plenty of water
Massage Treatments
We will use a variety of techniques depending on your needs, such as Shiatsu, Swedish, Deep Tissue, Lymphatic Drainage, Pressure Points. Enjoy the many benefits of a regular massage.

30 minutes (eg. back & neck) £30.00
60 minutes (eg. full body) £60.00
Full Aromatherapy Massage (75 mins) £70.00
Essential oils have individual therapeutic properties, which can help to create balance & harmony of mind & body and are especially helpful in reducing stress & tension. This is a complete full body treatment including scalp, combining the effects of massage with pure, natural oils.
One treatment is a glorious way to relax and de-stress ~ a series of treatments can help many ailments.
Oncology Massage
We have specific training & insurance for working with those affected by cancer, whether when first diagnosed, during cancer treatment, on the road to recovery or in remission. It is an adapted massage treatment which is modified to each clients needs & the specific ways cancer or cancer treatments have affected you & your body.
See the Oncology Massage page for further details.
Full Body Hot Stone Massage

(75 mins)

£70.00




or


Hot Stone

Back Treatment

(30 mins)

£37.50

Smooth hot stones are placed on the body transferring their heat to the muscle, causing them to relax. Massage is then carried out using a combination of the hand & the warm stones, allowing a deeper massage. Circulation is boosted, lymphatic system is stimulated, muscle tension released and a sense of well being is achieved. A treatment to ease the whirl of day-to-day existence and refresh the mind, body and soul.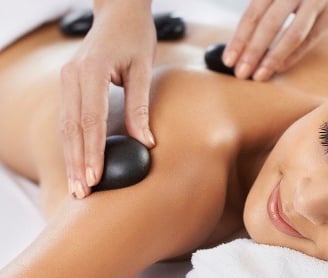 Indian Head Massage (30mins) £30.00
A therapeutic massage technique that focuses on the head, face, neck, upper arms & shoulders - releasing the stress that has accumulated in the tissues, muscles & joints
Full Body Polish
(45 mins) £45.00
Starting with dry skin brushing then an exfoliating body scrub followed by a refreshing shower. Completed with a nourishing body cream, this treatment will remove dead skin cells, leaving the skin hydrated, nourished and silky smooth.
The perfect preparation for a summer holiday ~ Or as a treat for your body in winter
Revitalising Back Bliss Treatment
(45 mins)
£40.00
A special treat for an often neglected area, focusing on cleansing & soothing the back. Start with a back exfoliation, follow with a mask & finish with a moisturising massage application.
Nourish and revitalise the skin on your back that so often gets neglected.
Moisturising Mud Body Wrap £50.00
Mineral rich mud heals & leaves your skin soft & your body feeling refreshed & invigorated, providing all the mineral elements needed for its well being. Includes scalp massage.
Detoxifying Seaweed Body Wrap £50.00
Nutrient rich seaweed contain active ingredients which not only has a slimming effect but also nourishes & hydrates the skin. Includes scalp massage.
Hand or Foot Treatment
£15.00
Add a nourishing hand mask with thermal mittens or a softening foot mask with heated booties whilst your body or facial treatment takes place.
. . . . relax, unwind and enjoy